Some easy and fun Christmas Savings Plan to help you save $1000.00 for your Christmas Shopping.
I know we are in the middle of Summer, so why should we be thinking about Christmas, plus less Christmas Shopping or even a Savings plan.
Around the Christmas Season, we all spend way more than we have and end up in debt going in the New Year. Majority of us does that, even myself.
This last Christmas, I couldn't believe that I maxed out my credit card. That was very much unlike me. I blamed my husband because I used my credit card to buy all of the Christmas gifts this year.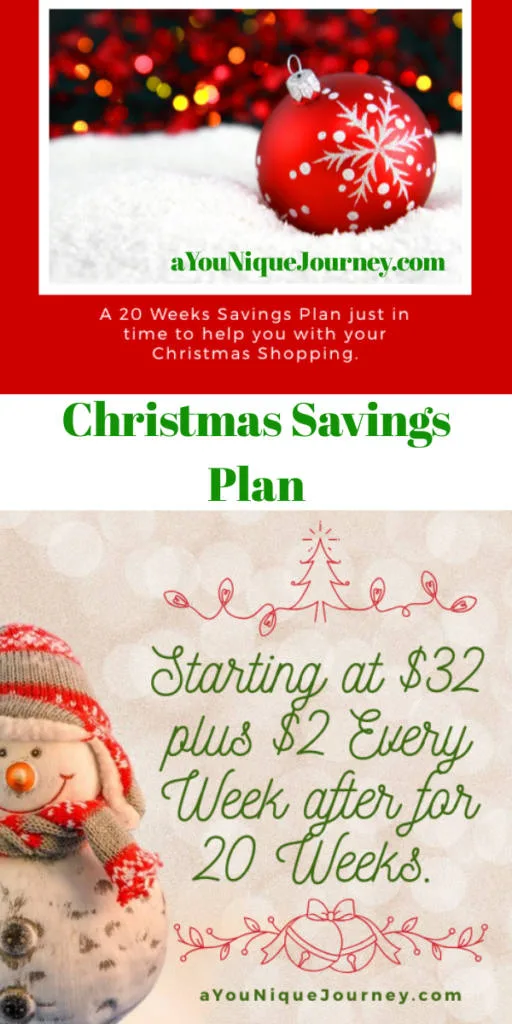 It was quite weird for me because I am always on top of my game when it comes to finances. I don't put my basket where I can't reach it. In other words, I usually don't spend more than I can afford. I needed a way to save some money, so I don't end up at the same place again.
So I thought, how can I create something to help myself and hopefully others, on ways to save some money to help with our Christmas shopping and don't end up spending way more than expected. Therefore, instead of putting the next Christmas expenses on my credit card again, I will be debt free.
Making Sacrifices for the Christmas Savings Plan
I know the amount can be a lot for some of us, especially the $100.00 every biweekly. There are monthly bills to pay and with children you are spending money every single day.
So with this Christmas Savings Plan, there may be a lot of sacrifices you will have to make. Some sacrifices includes cutting back on eating out at restaurants and start cooking more at home.
Another cutting back is to lessen your caffeine intake. Instead of 3 cups of coffee per day, you can reduce it to 1 cup per day and that will help you save more money.
3 Types of Christmas Savings Plan
I created three different ways to start a Christmas Savings Plan. This starts in July and ends in November. These 3 plans will help you save $1000.00. I think that's a good amount to help the average American with Christmas shopping.
For this Savings Plan, we will start on July 10th and ends on November 20th of this year 2020. It will be a total of 20 weeks, if you start on that date.
As I said before, this ends a week before Thanksgiving. Just in time for Black Friday. So you can have your savings to take advantage of all those Black Friday Deals and to give every member of your family a gift.
1: $50.00 Every Week for 20 Weeks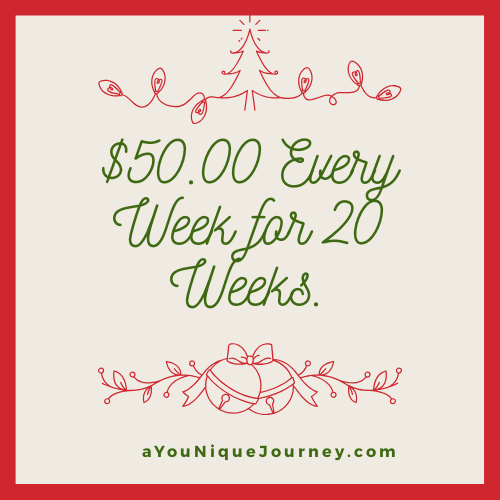 The first Savings Plan is to save $50.00 every week for 20 weeks. Again, you start on July 10th. At the end of the 20 weeks, you will have a total of $1000.00.
For this Savings Plan, click the download button below, so you can print it out.
2: $100.00 Biweekly for 10 Paydays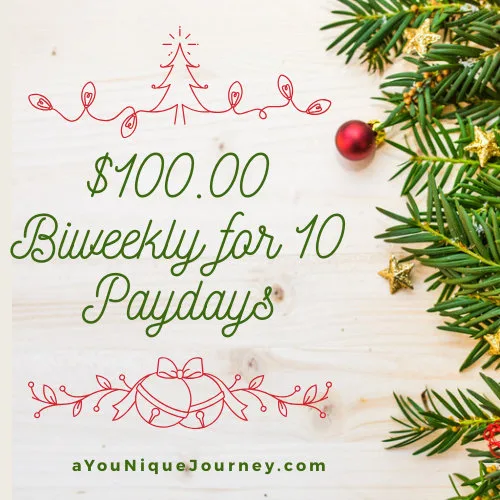 This Christmas Savings Plan is for those that get paid every bi-weekly. It is similar to the plan above. It is just doubling the amount every 2 weeks for 10 paydays. At the end, you will have a total of $1000.00.
Please note that, if you start on July 10th, then you will finish the week before November 20th since it is bi-weekly.
For this Savings Plan, click the download button below, so you can print it out.
3: Starting at $32 plus $2.00 Every Week for 20 Weeks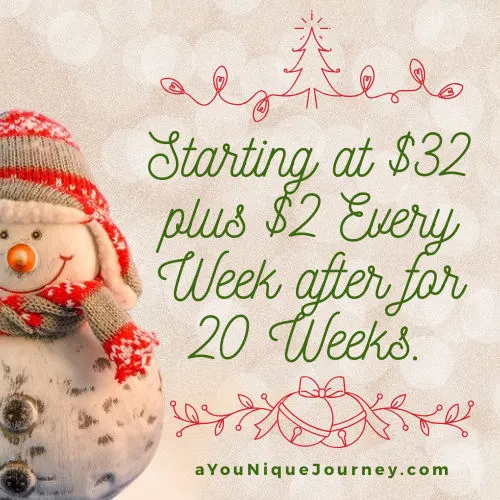 For this Christmas Saving Plan, you will start off with $32.00 the first week and then add $2.00 each week to the savings from the previous weeks. For example: the first week starts with $32.00; the second week it will be $34.00; the third week it will be $36.00 and continue adding $2.00 each week for the next 20 weeks.
For this Savings Plan, click the download button below, so you can print it out.
How to save for this Saving Plan?
With all these three Christmas Saving Plan, you can set up an automatic transfer with your bank institution. Not seeing it when it's pay day, you can't get to spend it. So out of mind, out of sight, until you are truly in need of money.
If you are self discipline, then you can do a transfer for yourself. However, the advantage to this is that you can forget to do it and then end up not doing it. So it's best to just do it with your bank institution…out of sight, out of mind.
Another option is to use the good ole piggy bank system. Yep, some of us still use a piggy bank or a empty coffee can to save money.
You can print out these plans and have a little fun while doing so. Keep it somewhere that is visible to you each day, like on your refrigerator in the kitchen. Cross out each amount as you go.
Another Saving Plan that you can also check out is my Money Saving Challenge.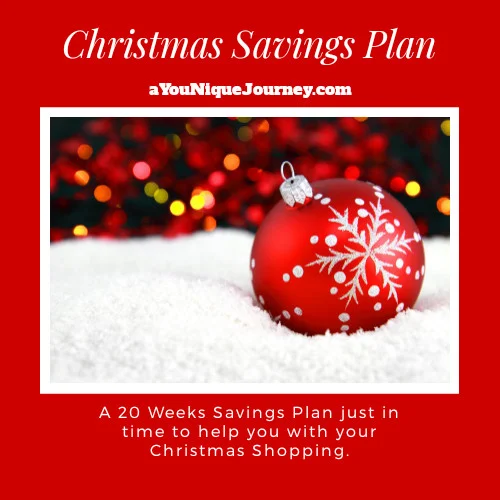 Please let me know what you think about this Christmas Savings Plan in the comment section below.
Thanks for stopping by and please come back again.
Blessings and Love as always, as you carry on, on your YouNique Journey!