These Chocolate Covered Strawberries are delicious and very easy to make. They are the perfect homemade Valentine's Day Dessert.
Chocolate Covered Strawberries are the go to dessert on every Valentine's Day.
Whether it's some white chocolate or dark chocolate covered strawberries, you simply can't go wrong with.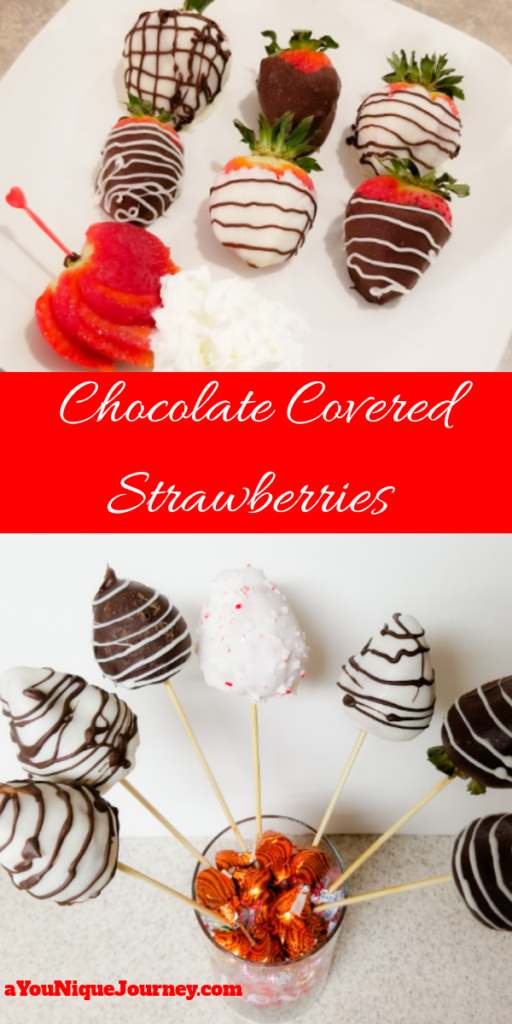 With each bite you get that juiciness from the ripe strawberry combined with that bittersweet taste from the chocolate.
If you are looking for a DIY Valentine's Day idea, then this delight would be perfect for you.
This can be added to your menu, after a dinner for two or better yet, to give to the children as a special treat.
How to clean each strawberry?
Like every other fruit, you have to wash it before eating.
So washing each strawberry is very important too.
This helps to remove any debris that comes with it in the package.
To clean each strawberry, fill a bowl with cool water and gently move each around in the water.
Drain off that first bowl of water and continue to wash off with running water about two more times.
Place each strawberry on some paper towel or kitchen towel.
Allow to air dry or use a paper towel to dry each one.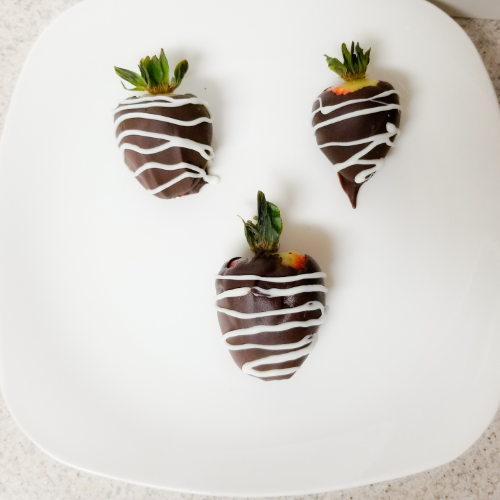 How to make Chocolate Covered Strawberries?
Covering strawberries with melted chocolate can be very intimidating but I can assure you that it is very easy
First thing to do is to rinse and dry each strawberry.
Secondly, line a baking sheet with parchment paper and set aside. Melt the chocolate as directed on the package.
Thirdly, dip the strawberry into the melted chocolate by holding the stem. Gently shake off any excess chocolate and place on the lined baking sheet to dry.
For the ones with a skewer: remove the stem and then insert the skewer at the top. Repeat the process.
Finally, allow to dry by placing them in the refrigerator to harden quicker. Enjoy.
To Decorate Chocolate Covered Strawberries
It is so easy to decorate each chocolate covered strawberry because you decide how you want to decorate it.
For this recipe, I pour some of the melted chocolate in a small ziploc bag and cut a very small part off the pointed end with a scissor.
Make sure it's not too big, or else the melted chocolate will be coming too much.
Drizzle the white chocolate over the dark chocolate covered strawberries and do the same for the dark chocolate over the white chocolate covered strawberries.
It may not come out perfect the first attempt, like those Chocolate Covered Strawberries delivery online services or from the bakery around the corner.
But don't worry, mine aren't either.
Step by Step Pictures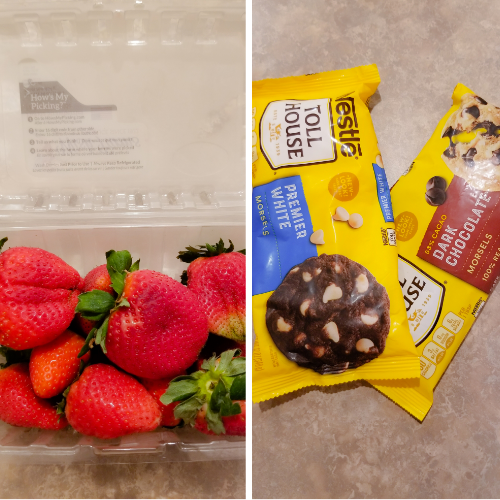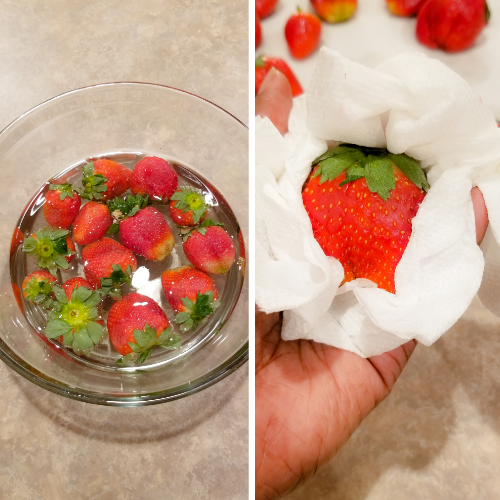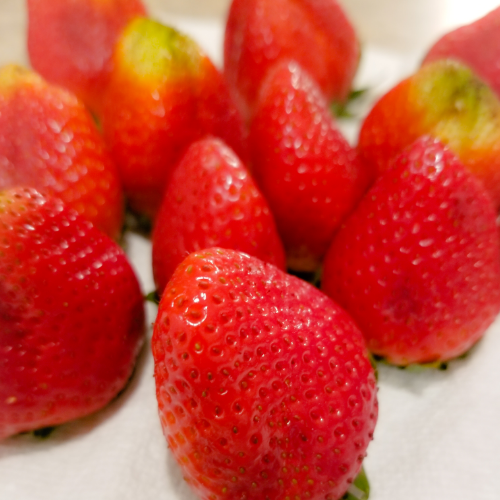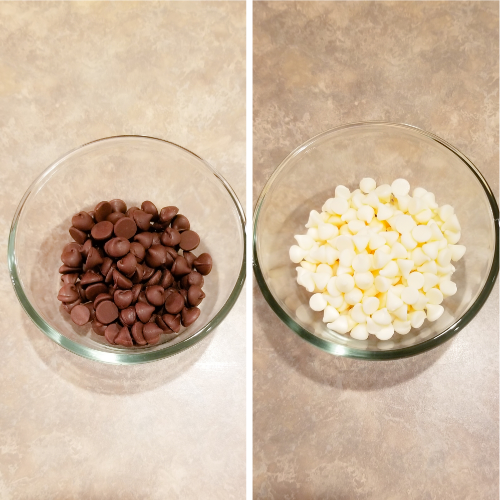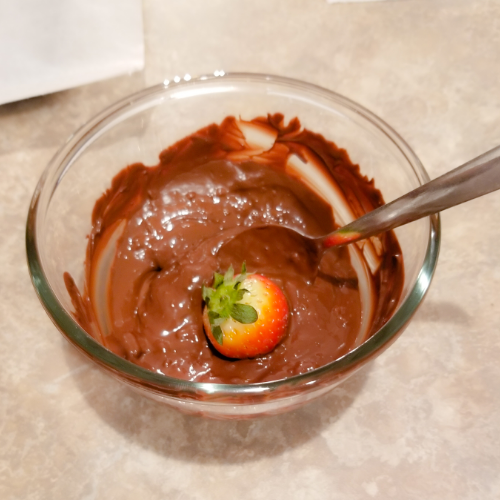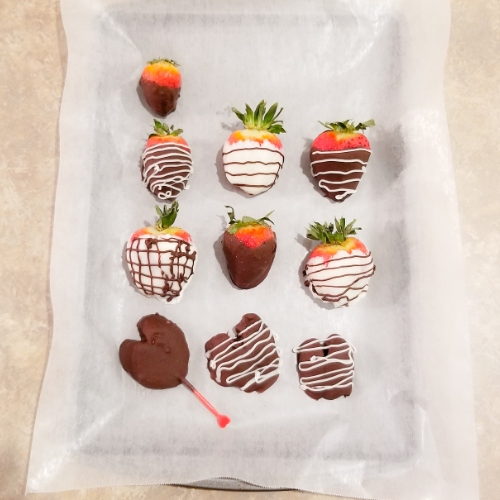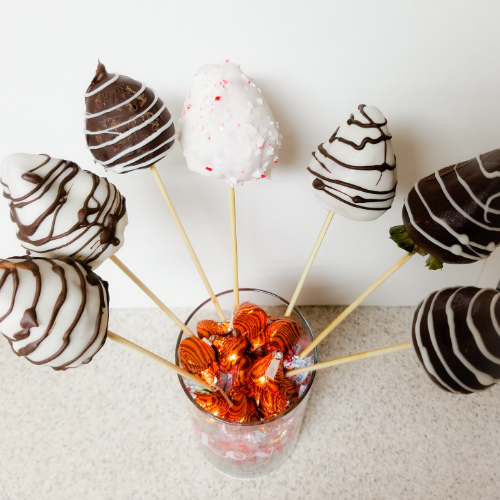 Chocolate Covered Strawberries Recipe
Ingredients
1 12 oz package of Nestle Toll House Premier White Morsels
1 12 oz package of Nestle Toll House Dark Chocolate Morsels
One pound of Strawberries or more
A package of skewers (optional)
Instructions
Rinse the Strawberries off with water and pat dry them. You can choose to remove the stems from some of the Strawberries, if you are going to use the skewers.
Follow the instructions on the package to melt the chocolate (white and dark chocolate).
For strawberries that are without a skewer: hold each strawberry at the stem and dip it in your desired melted chocolate. Gently shake off any excess chocolate. Allow to dry on the baking sheet lined with parchment paper.
For the strawberries that uses a skewer: remove the stem, insert a skewer at the top of a strawberry and dip it in the melted chocolate. Place in a tall drinking glass, so the melted chocolate runs down and cover more towards the stem. Allow to dry.
Allow to chill in the refrigerator to speed up the hardening process or until you choose to serve them. Enjoy.
Notes:
If you are using skewers, then remove the stems. But keep the stems on to hold when dipping into the melted chocolate.
Place them in the refrigerator to harden the chocolate.
Please let me know what you think about these Chocolate Covered Strawberries in the comment section.
Thank you stopping by and please come back again.
Blessings and Love always, as you carry on, on your YouNique Journey!