Mason Jar Journal is another way you can use a Mason Jar in a positive way, that will sure put a smile on your face at the end of the year.
There are several cool ways to use a Mason Jar. Personally, I only use a Mason Jar as a drinking cup when I do smoothies.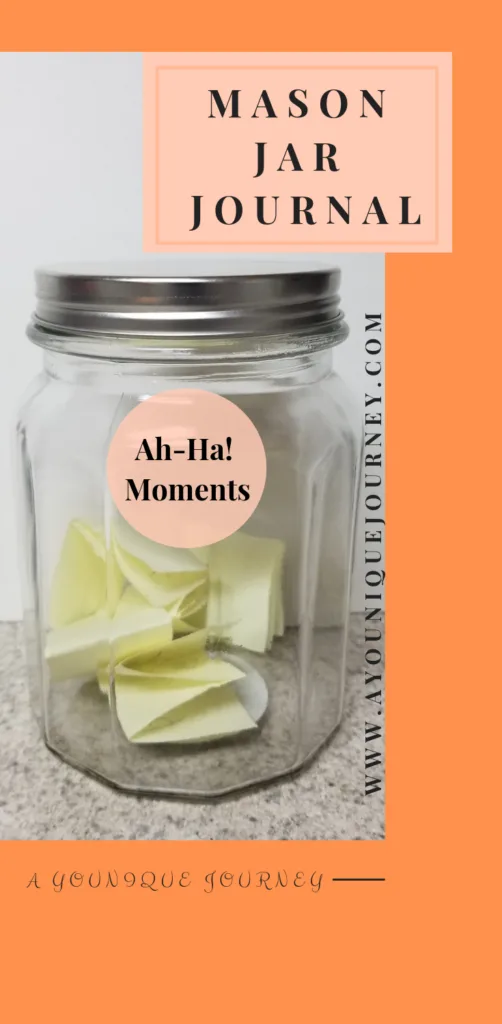 The colors of the smoothie showing through the glass, looks beautiful.
I know I am not the only one that admires the color of their smoothie. Hahaha!
It's amazing though, how many ways there are to use a Mason Jar. Ways you will never thought of or imagined. So, let's dive into it.
Life Happens…

"Life is not what one lived, but what One remembers and how One remembers it in order to recount it."


Gabriel Garcia Marquez
Life is both good and bad. There is no balance at all.
This minute life is good, and the next it is bad.
But I think we all can find even one thing to be thankful for. One thing that is going good in our lives.
For some, they are asking when will they catch a break.
No, we can't determine what happened to us the next minute because life is 10% what happens to us and 90% how we react to it.
We have to remain positive to keep a sane mind or else we lose it.
Be Positive, Be Grateful…
Speaking of positive, how about being alive. Getting up each day is a blessing and right there that is something good happening in our lives.
In my small little opinion, having life is the most awesome thing.
In fact, just been on the 'Wake up List' is something to smile about and a good thing.
Therefore, let's talk about good things happening in our lives. We all love when good things happens to us.
We try to live in that moment but we can't because we have to move on to the next phase in life.
Plus, we aren't capable of remembering every good thing that happens to us.
No it is not possible.
Therefore as a result, some of us write in a journal to document all of our life's journey, whether good or bad.
Wouldn't we want to only write about the good things that happened to us?
Oh yes, sure.
But we can't, unfortunately.
However, we can choose to only stick to one side of life…the good things.
Yes we can keep our focus on the things that brings laughter, a smile, joy, peace and so much happiness to our lives.
Mason Jar Journal
Let's talk about Mason Jars. Hmmm…how does Mason Jars connect to good things? Mason Jar Journal!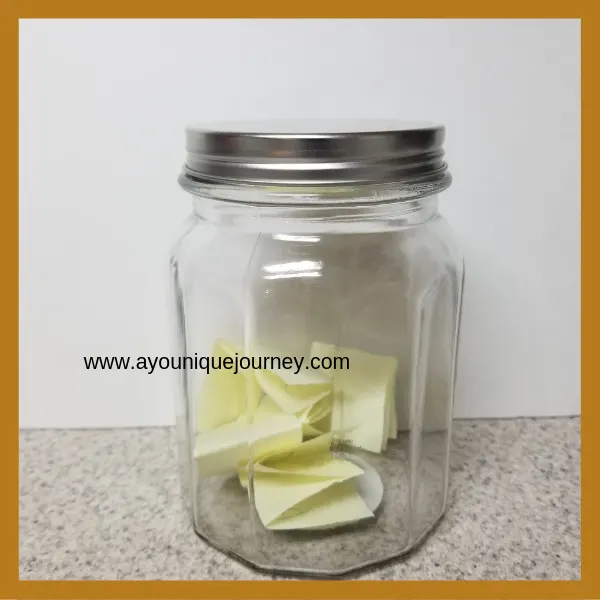 The Mason Jar Journal is a record of all the good things that happens to us within a year and then at the end of the year we open it up and be reminded of them all.
Again, we only focus on the good things.
Don't get me wrong, it's not that I am saying ignore the bad things and pretend they didn't happen.
No, I am not saying that. In fact, without our test and trials on this journey, we wouldn't be the person who we are.
I say the bad things are what makes us stronger. We can't change what has already happened to us.
However, we can choose to focus on the positive side of life.
How to create a Mason Jar Journal?
Here's how it works.
Get a Mason Jar or anything that has a lid to close it up.
Write down the date and the event of what took place on a piece of paper.
Then just put it in the Mason Jar.
That's it!
Now bye the end of the year, you will have all these memories flooding your mind all because of a Mason Jar Journal.
Now who don't want to be reminded of great memories? I don't know a single person who doesn't.
Good memories put a smile on our faces and calms our spirit.
It helps us become who we are.
Good memories improve our mood and help us feel much better than before.
It ignites a fire within us, that reminds us that anything is possible and to never give up.
You can find Mason Jars at your local Walmart, Dollar Tree and other grocery stores across the country.
Some Examples of Good Memories to journal about
It can be that day when you were at Starbucks grabbing a cup of coffee and someone was kind enough to pay for your coffee.
Or what about when you were having lunch and you met a stranger that was so sweet to you that brings gives you hope in humanity all over again.
Remember that day you finally got that promotion you applied for.
So many ah-ah moments (good memories) to put in your Mason Jar Journal.
This can be a girlfriend get together end of year party. You and all your girlfriends meet up with food and wine and share memories from each other's Mason Jar Journal.
As a New Year gift, you can create gift basket and include a mason jar by buying some Mason Jar in bulk at your local store and give your girlfriend one at the beginning of the year.
It's up to you what you put in that Mason Jar. It's your Journal, so you decide what you define as your ah-ah moments (good memories).
Now who is going to start one?
Other ways on How to use a Mason Jar.
Traditionally, Mason Jars can be used for several things in the home or office. Also, it is used to create beautiful DIY's crafts and projects.
Below are a list of 10 ways on how to use Mason Jars:
Canning
Mason Jar Salad
Candle holders
Vase
Pie holders
Tumblers
Party Center Pieces
Chandelier/Light Fixture
Lantern
Spice Holder
What will you be doing at the end of the year? Hosting a Mason Jar Journal Party with your families and friends?
Also, be sure to check out these simple and realistic New Year's Resolutions that I have put together and some Tips to have a Clear Vision for the new year.
Let me know what you think about the Mason Jar Journal idea, in the comment section below.
Thanks for stopping by and please come back again.
Blessings and Love, as you carry on, on your YouNique Journey!