This Mexican Corn Salad is a sweet and tangy version of the original Mexican Street Corn Salad, which can be on the cob or in a cup, which is also known as Esquites.
Before I go any further, let me just say, Happy Cinco de Mayo!!!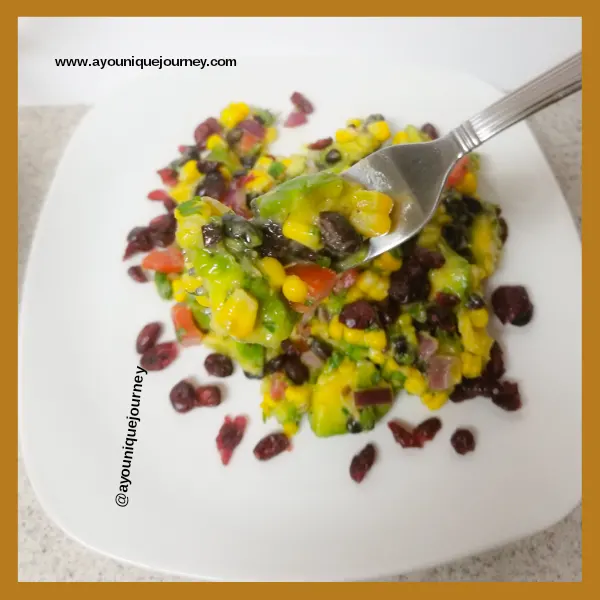 For the Mexican Corn Salad, you have several different toppings when you order it. These toppings includes mayonnaise, chili powder, lime juice, hot sauce, grated cheese and even some melted butter.
This recipe will make a perfect Summer Corn Salad, since a lot of corn is in season at that time.
In my version, I didn't put any cheese in it and nothing to make it spicy such as jalapenos or hot sauce. I love spice but I have to add it to my plate separately because of my children.
I added some avocados, bell peppers, red onions and some black beans. Sorry, I love beans on a whole, and the black beans are the perfect addition to a salad.
How to prepare the Corns
In this version, I boiled the corns on the cob for about 5 to 7 minutes with some salt in the water. You can also choose to grill the corns for about 10 minutes or until they are to your desire.
Another version is to cut the raw corn off the cob, add the corn into a skillet with some heated olive oil or vegetable oil and cook. Add some salt, stir and allow to cook until they are golden brown for a bout 10 to 15 minutes minutes or until they are to your desire.
Also, you can choose to use canned corn or some frozen corn.
So many options, the choice is up to you.
How to store this Corn Salad?
You can store this Mexican Corn Salad in an airtight container for up to 3 days in the fridge. Personally, I wouldn't recommend freezing this salad for future use.
What to serve with this Salad?
Whenever I do this Mexican Street Corn Salad, I do it as a side dish. But in all honesty, you can eat is as a full meal/main dish for lunch or dinner.
You can put this version on some Tacos and call it a day. Plus, this salad can be used as a topping for some Fish Tacos too…your choice.
How to make Mexican Corn Salad?
This Mexican Street Corn Salad is a easy salad to prepare for Cinco de Mayo Day or for a Summer Barbecue in the back yard.
Once you decide how you are going to cook the corns, place them in a large bowl and allow them to cool.
Chopped the tomatoes, cilantro, and red onions and put them in the large bowl with the corn. Open the can of black beans, rinse and drain it. Add it to the large bowl. Add the diced avocado to the bowl.
Whisk together the items for the dressing and pour over the salad.
Step by Step Pictures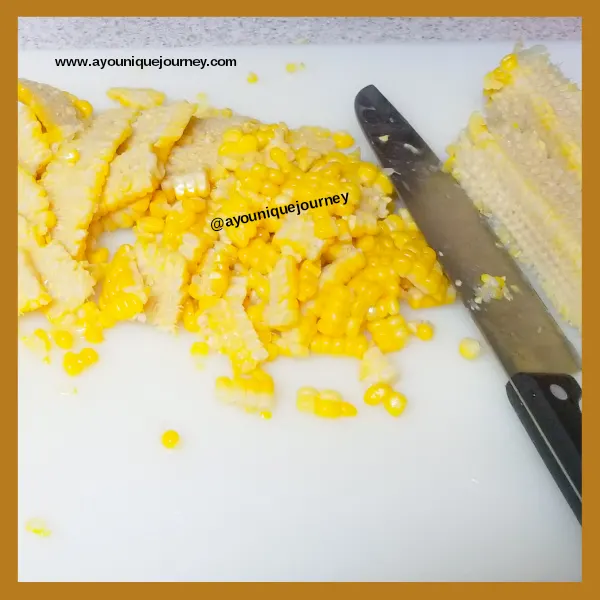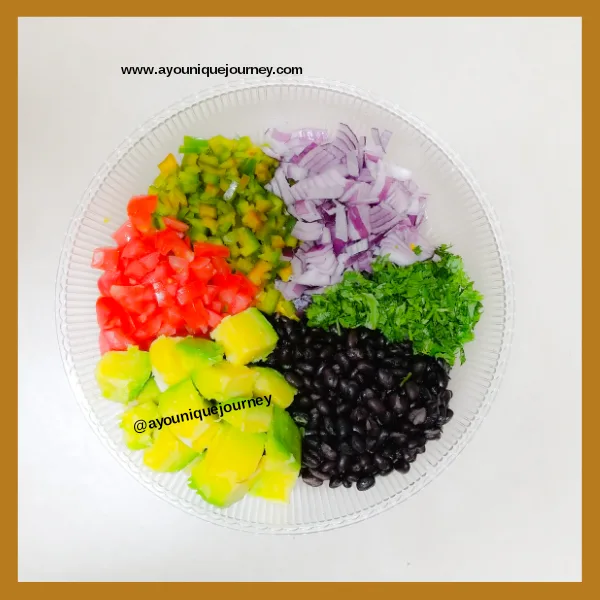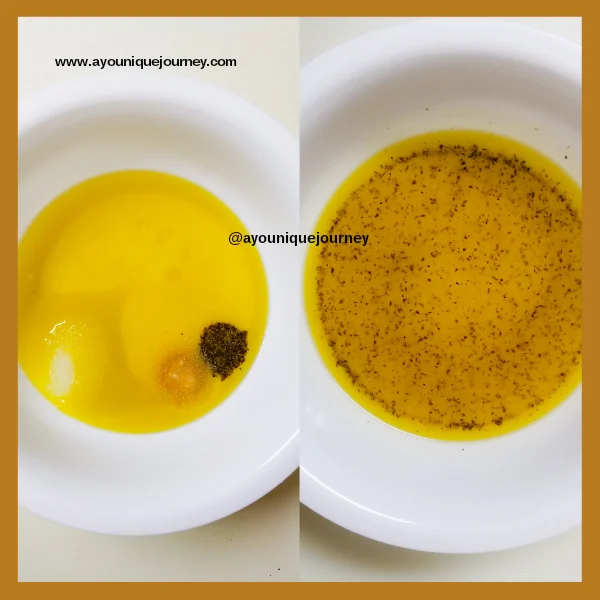 Mexican Corn Salad Recipe
Ingredients for Mexican Corn Salad
4 ears corn, husked
1 1/2 medium tomato
1 can of black beans, rinsed and drained
1/2 green bell pepper
1/2 red onion, finely chopped
1 ripe avocado, diced
1/2 bunch of cilantro
Ingredients for Dressing
2 Tbsp apple cider vinegar or red wine vinegar or white wine vinegar
2 Tbsp granulated sugar
1/3 cup extra virgin olive oil
1 Tbsp fresh lime juice
1/2 tsp black pepper
1/2 tsp salt
1/4 tsp garlic powder (optional)
Instructions
Remove the husk from each corn and wash them off.
Fill a large pot that can hold all 4 corns with some salt and bring to a boil. With a little salt in the water, it brings out the sweetness of the corn.
Once it begins to boil, put all 4 corns in the boiling water and allow to cook for about 5 to 7 minutes.
Turn off the heat and throw away the hot water and pour cold water on the corns.
Once the corns are cool, cut the corn from the cobs and place them in a large bowl.
Add the black beans, tomatoes, cilantro, red onions, green bell pepper, and avocado in the same bowl with the corns.
In a separate bowl, add the extra virgin olive oil, sugar, salt, garlic, black pepper, vinegar and freshly squeezed lime juice and whisk together.
Pour the dressing on top of the salad and mix everything together until it is well combined.
Cover with a plastic wrap and allow it to chill in the refrigerator, until you are ready to eat.
When you are ready to serve, you can add some dried cranberries on top if you want to or eat it just like it is. Enjoy.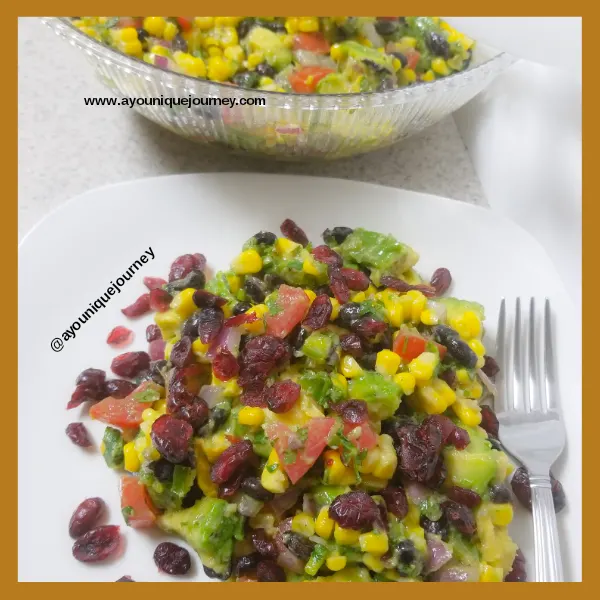 You can check out this Coleslaw recipe also.
Please let me know what you think about this Mexican Corn Salad in the comment section below.
Thanks for stopping by, please come back again.
Blessings and Love, as you carry on, on your YouNique Journey!