These Mini Cheesecakes are sweet, creamy, savory and the perfect size to eat after a meal for dessert.
They are also perfect as a Valentine's Day treat.
I love to make these Mini Cheesecakes cupcakes because they are so easy and less cleaning up to do. They don't require any fancy baking pan, just some regular muffin pans that I am sure is in your cupboard.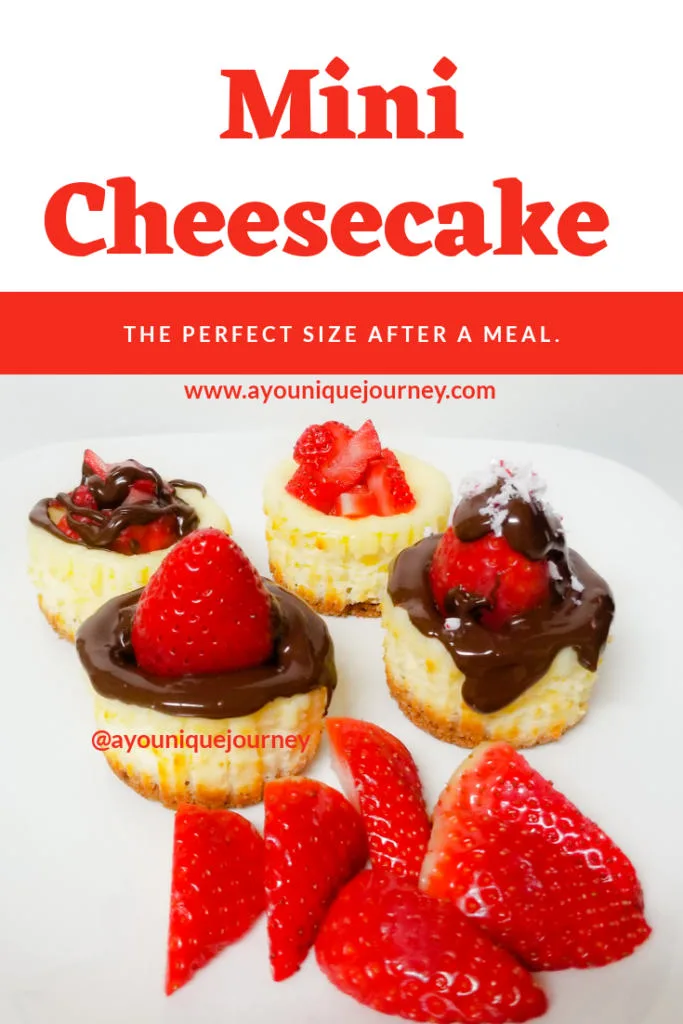 Plus, no water bath requires like my Blueberry Cheesecake and it's pretty much half the time a regular Cheesecake takes to bake.
This Mini Cheesecake recipe makes approximately 12 mini cheesecakes bites… each layered with a graham cracker crust and top off with a cheesecake batter.
You will enjoy each mini cheesecake bites not just as a Valentine's Day dessert, but for any occasion. These are also perfect for Easter, a birthday party, a Christmas party, house party or even as a gift for a friend or coworker.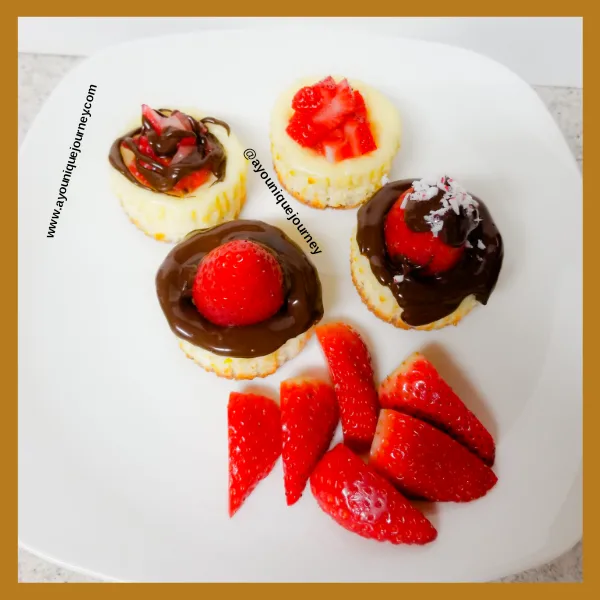 Substitute for Sour Cream
If you are not into mini cheesecakes with sour cream, then you can substitute with some Greek Yogurt instead.
It wont have that tangy flavor, but it will still be perfect with these mini cheesecake easy recipe.
Mini Cheesecake Toppings
You can choose to eat these just as they are… plain, without any toppings. However, if you choose to put some toppings on it, there are so many options to choose from.
For this recipe, I used melted chocolate with some strawberries on top. Below are a few of the Toppings that you can use on the Mini Cheesecakes.
Strawberry Sauce
Fresh Fruits
Melted Chocolate
Soft Caramel
Whipped Cream
Lemon Curd
Pie Filling
Can you freeze these Mini Cheesecakes?
Oh yes, these mini cheesecakes cupcakes can be frozen. Place them in a air tight container or some freezer bag and freeze for about 2 months.
Once you are ready to eat them, let the mini cheesecakes thaw out in the refrigerator overnight or if you prefer, let them sit out at room temperature until they are thawed. Then you can add some toppings and enjoy.
How to make Mini Cheesecakes?
Firstly, crush the graham crackers, add the melted the butter, the cinnamon powder and mix well. Put about a tablespoon of the crust in each cupcake liners in the muffin pan and set aside.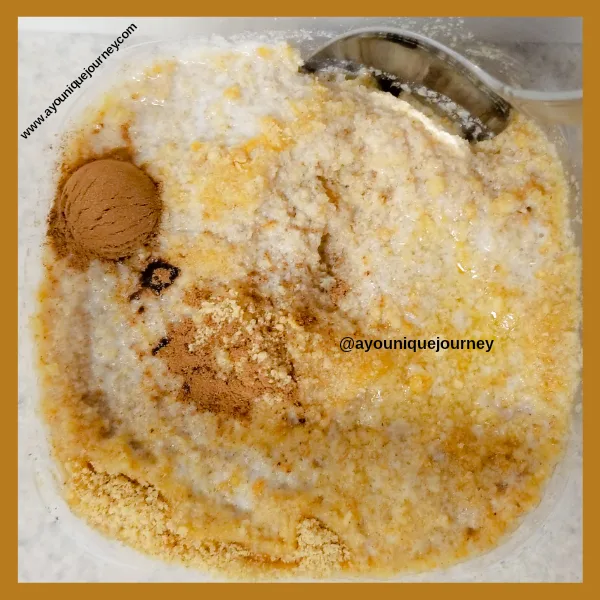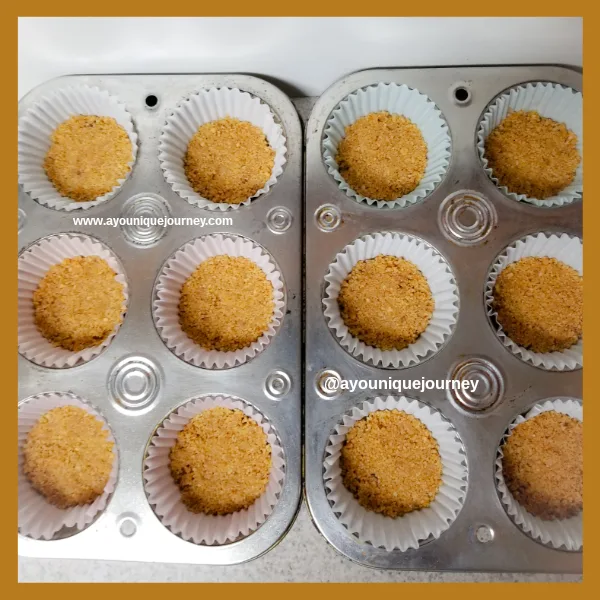 Secondly, beat the room temperature cream cheese and then add the sugar, vanilla extract and eggs.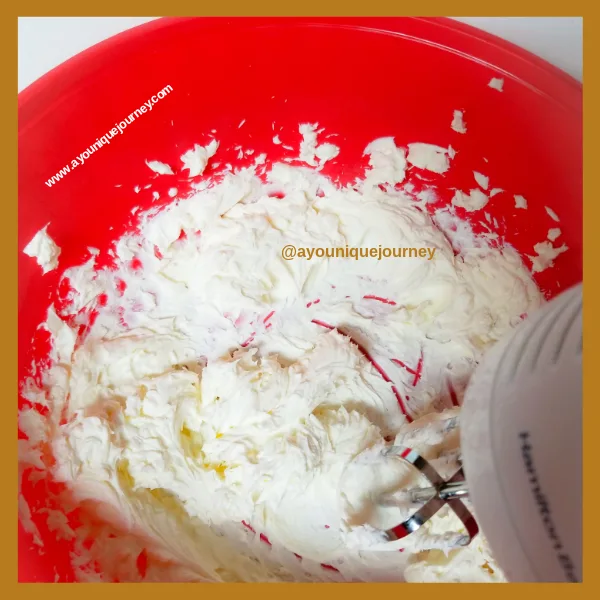 Last but not least, add the sour cream to the mixture. Pour the batter to each of the cup liners with the graham cracker crust that was prepared earlier. Bake for 25 to 30 minutes.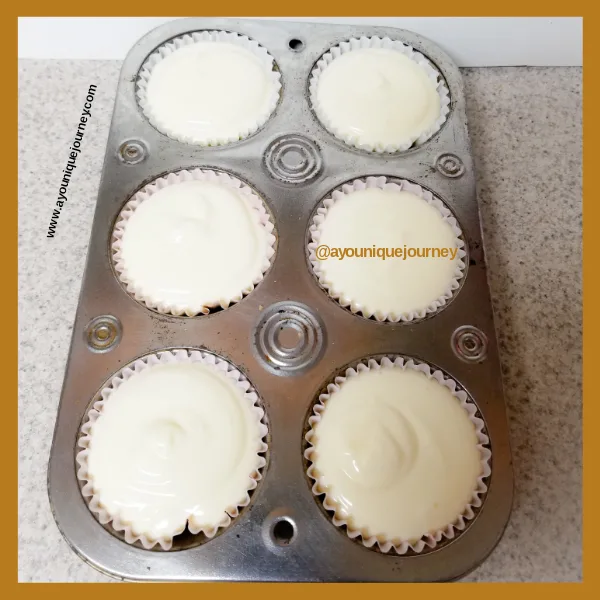 Like I said before, these mini cheesecakes don't need any water bath as a regular cheesecake would.
Again, an easy mini cheesecake recipe.
Mini Cheesecake Recipe
Ingredients for The Mini Cheesecake Graham Cracker Crust
¾ cups Graham Crackers
3 Tbsp melted butter
¼ tsp cinnamon
Ingredients Mini Cheesecakes Batter
16 oz cream cheese, softened
½ cup granulated sugar
½ tsp vanilla extract
2 eggs
½ cup sour cream
Instruction
How to make the graham crackers crust from scratch
Place graham crackers in a ziploc and close it up. Use a roller pin to crush the crackers until it becomes crumbs.
Add the cinnamon and whisk it. Then add the melted butter and stir until crumbs are evenly moistened.
Put 1 Tbsp in each cupcake liners and press down to make the crust. Set aside.
How to make the Mini Cheesecakes
Preheat oven to 325 degrees.
In a medium bowl, beat the softened cream cheese for about 45 seconds to 60 seconds. Add sugar, eggs and vanilla. Continue to mix until it is smooth without lumps. Then add the sour cream and mix well.
Fill each cupcake with about 2 to 3 tablespoons of batter.
Place in the middle of the oven and bake for about 25 to 30 minutes.
Remove from the oven and put on a cooling rack.
Let them chill in the fridge for up 3 to 4 hours.
Decorate with melted chocolate and strawberries.
Serve and enjoy.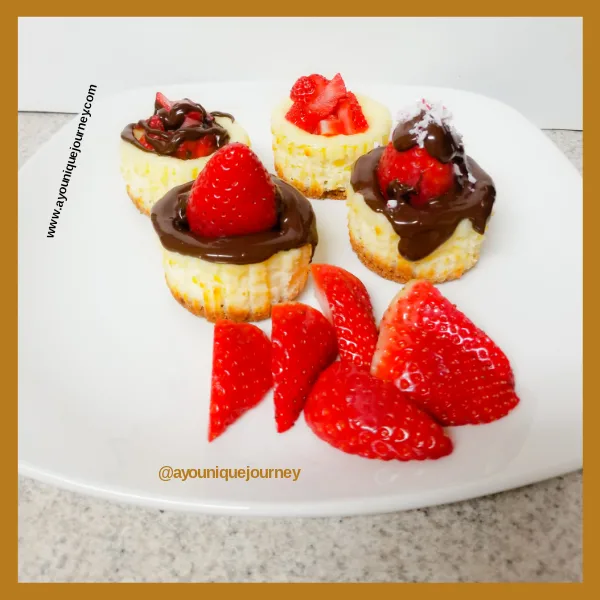 Please let me know what you think about these Mini Cheesecakes in the comment section below.
Thanks for stopping by and please come back again.
Blessings and Love, as you carry on, on your YouNique Journey!