These Valentine's Day Ideas are some quick, easy and inexpensive ideas, that any one can make for their special someone.
Valentine's Day is a day that people express their love for each other. Traditionally, Valentine's Day is celebrated by lovers but it can be celebrated between a mother and a child, two friends, neighbors and even a student and teacher.
Valentine's Day
Personally, I don't think expressing love should be limited to just one day, Valentine's Day. Love should be expressed every day. Once you are able to open your eyes each day, you should try and make your loved ones feel special every single day. Not just Birthday, Anniversary, Christmas, and Valentine's Day, but every day should be special.
Expressing your love can be as simple as buying a lollipop for a friend or as extravagant as flying to Paris to propose to the love of your life. Regardless of what is done, it's the thought that counts. To know that an effort was made to make someone else feels special, is the beauty of it all.
Valentine's Day is exactly one week away from today. What are your plans for Valentine's Day? I hope you have something plan with your special someone. I put together some Valentine's Day ideas that I did with my kids. As usual, I try to find simple ways to create cute and affordable items that anyone can make.
Valentine's Day Gift Ideas
Below are my Valentine's Day Ideas that you can invite the kids to assist you with. They are easy, affordable and cute to give as a gift. You can find all these items at Walmart, Dollar Tree or any other Supermarket nearby you.
Also, make sure to check out my Valentine's Day Ideas Part II.
Heart shaped Pop Pie
This Heart Shaped Pop Pie idea can be a Valentine's Day Idea for Her or a Valentine's Day Idea for Him. Either which, it's a great idea to add to a dinner for two.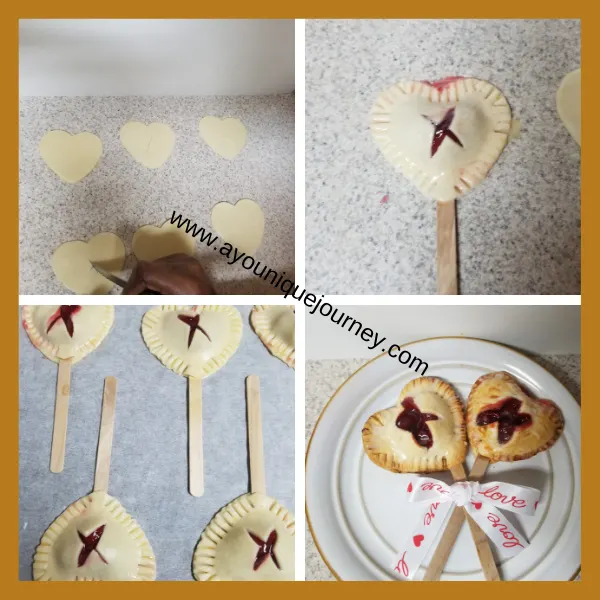 How to make Heart shaped Pop Pie
Ingredients
An Egg
1 Tbsp. of milk
1 can of cherry pie filling
A box of ready made pie crust
Popsicle sticks
Directions
Preheat oven to 375 degrees. Line a baking sheet with parchment paper.
Place each pie crust on a lightly floured surface and roll out any creases it has.
Use a heart shaped cookie cutter and cut your desired amount out. For one pie crust you can get an average of 7 to 8 (depending on the size of your cookie cutter) heart shaped crust. Plus, with the scraps, you can get more hearts cut out.
For each pop pie, you need 2 heart shaped pie crust. On one, make an 'X' in the middle of the pop pie (to allow steam to escape) and that will be for the top.
On the other heart shaped crust, place the amount of cherry pie filling on it. At first, I placed 5 cherries on a crust, but realized it was too much. So for each crust I used 3 cherries.
Put a Popsicle stick about ½ inch at the bottom of the heart. Then use the top crust to cover it. Gently press the edges. Use a fork to crimp the edges.
In a small bowl, whisk the egg with a tablespoon of milk or water (your choice). Brush the top with the egg wash. Don't brush too much or else when it is baked you will show darker than the crust itself (as shown in the picture above).
Place each heart shaped pop pie on the baking sheet and bake for 14 – 16 minutes or until golden brown.
Mason Jar Gift
This Mason Jar Gift idea can be a Valentine's Day Idea for a neighbor, co-worker or a friend.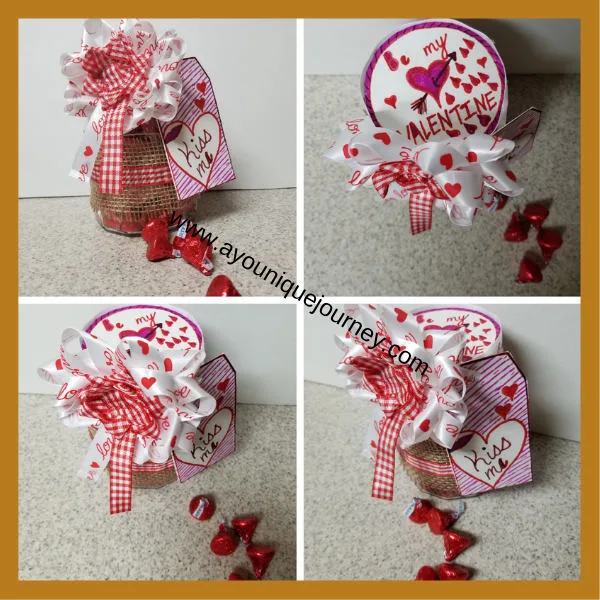 What you will need to make the Mason Jar gift idea?
Mason jar
3 different types of ribbons
Glue
Candies
Paper
Scissor
How to make Mason Jar gift idea?
Fill a mason jar with your desired candies. I used kisses chocolates in mine. Measure the around the mason jar. Use a burlap ribbon to glue around it. Then use another ribbon. I used a red gingham ribbon. Glue as you wrapped it around.
Put the same red gingham ribbon around the lid and glue it. You can create some cards to attach to the ribbon at the side.
Make a circle the same size of the lid. Design it the way you want and glue it.
Make a bow and put it at the side of the lid (close to the cards) to finish it off.
Sorry I didn't take pictures of each steps, but the pictures above will show you how it looks. I promised you it's not hard to do.
One Eyed Butterfly Treat
This One Eyed Butterfly Treat can be a Preschool Valentine's Day Craft to give to their parents on Valentine's Day.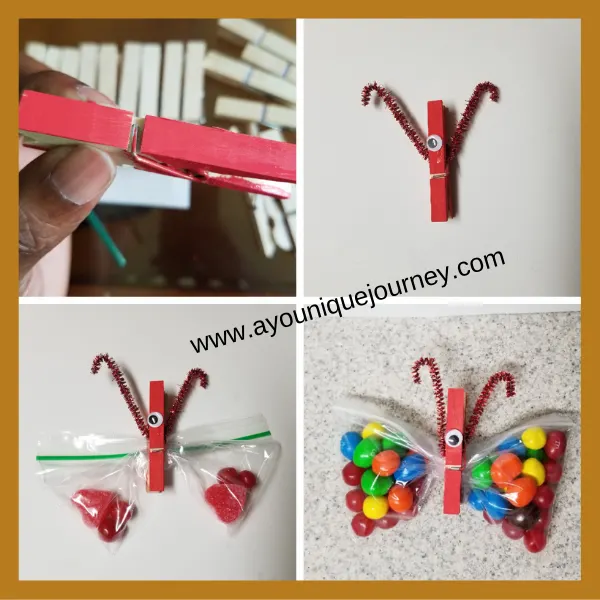 What you will need:
Clothes pins
Pipe cleaners/Chenille Stems
Googly eyes
Glue
Snack size Ziploc bags
Paint
Paint brush
Scissor
How to make One Eyed Butterfly treat
Firstly, paint a clothes pin with your favorite color. I used red color, since I was planning to use it for my son's Valentine's Day goodie bags.
Secondly, glue a googly eye on it and add a pipe cleaner/chenille stems (I cut each in 2) and put it in the middle of the clothespin when you squeeze the end of it. Bend the ends to resembles antennas.
Thirdly, fill your snack size ziploc bag with your snack. It can be anything you want such as fruits, goldfish crackers, popcorn, cereal (cheerios) and of course candies.
Lastly, find the center of the ziploc bag and use a clothes pin to attach it while gathering it to create a butterfly design.
Happy Valentine's Day!
Love, Kisses & Valentine's Wishes to You & Yours!
Please let me know what you think about these Valentine's Day Ideas Part I in the comment section below.
Thanks for stopping by and please come back again.
Blessings and Love, as you carry on, on your YouNique Journey!